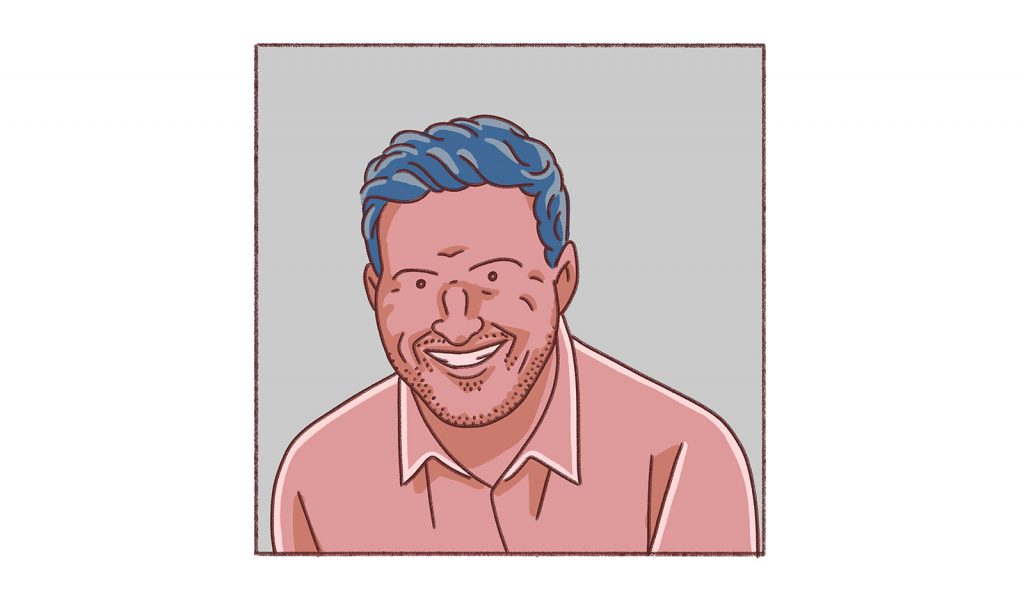 Linsky's first job in journalism was writing features for an alternative news weekly in Florida, called the Weekly Planet. He was making next to nothing, but learned from experienced journalists, had his own column and was having a lot of fun – he still calls it the best job he'll ever have. He was surprised he had found his path as a writer – until he realized journalism was in fact the only thing he knew. He had grown up around newsrooms, since both his parents were working in media (his father was a journalist and his mother a graphic designer). If he ever got in trouble, the only way they could punish him was by making him come to their offices.
He left this job in 2006 to be with his now wife, who was living in California, but at only 24 he was offered a job to run a small newspaper, the Creative Loafing, in Atlanta. He took it, but found it hard. He felt unprepared, overwhelmed and not very good at it and he didn't get to write much.
His love for long form articles didn't go away though and in 2010, together with his old college classmate Aaron Lammer, he started Longform, a website that curated 4,000 word gems and displayed them in a much cleaner and friendlier format than the publishers did back then, especially on mobile screens.
For a long time, Linsky missed writing – after all, all he had ever wanted to do was write long articles for The New Yorker – but he found new meaning in interviewing writers on the Longform Podcast he started in 2012 with Lammer and Evan Rattliff. On the weekly journalism Q&A program, some of the biggest names in nonfiction opened up about their worries and their processes. In almost seven years and more than 360 episodes, Longform talked to such writing and industry superstars as David Grann, Malcolm Gladwell, Brian Reed, Ira Glass, Cheryl Strayed, Gay Talese and Susan Orlean.
Linsky thinks that much of what makes him a good interviewer is that he actually cares.
"Journalists don't get asked to get interviewed very often," he said on a podcast. "It's just rare to get to sit down with someone and ask them what you really want to know. […] It feels like a con – you put a mic in front of someone and all of a sudden David Remnick tells you about his anxieties."
His patient and intimate interviews landed him other podcasting deals. In 2015 Linsky produced a series for and about the NFL team the Cleveland Browns – Brownscast – where he interviewed players, coaches, and front office personnel. A year later, he cohosted With Her, a podcast that followed Hillary Clinton's presidential campaign and aimed to show a human and relatable side of the Democratic candidate.
With Her was the first release of Pineapple Street Media, a Brooklyn-based podcasting company Linsky started in 2016 with former Buzzfeed director of audio Jenna Weiss-Berman. Pineapple's aim is to produce diverse shows that find significant audiences – both their own and in collaboration with clients such as The New York Times (an audio novice back in 2016), Lena Dunham's Lenny Letter, HBO, Netflix, MailChimp, Random House, Spotify, Google and Nike.
Some of the company's biggest hits are Still Processing, a podcast cohosted by NY Times' culture writers Wesley Morris and Jenna Wortham,Running From COPS, an investigation into COPS — the longest running reality show in American TV history, and The Chernobyl Podcast, that discusses the true stories that shaped the scenes, themes and characters of the Chernobyl HBO TV show. Linsky is an executive producer on all of the company's shows.
As Pineapple's podcasts have reached tens of millions of listeners, proving that Linsky and Weiss-Berman were right to open the world of audio to producers from more traditional platforms – in August 2019 Pineapple was acquired by Entercom, one of the largest traditional radio companies in the U.S.
Get to know Max Linsky's work
Max Linsky is speaking at the 9th edition of The Power of Storytelling. Meet him and the other amazing speakers who will tackle this year's theme: Heal.