Jonah Sachs is someone you could call a PoS regular: this will be his third appearance at our conference, and it coincides with the launch of his second book, Unsafe Thinking. Sachs has been widely referred to as a marketing innovator, and expert storyteller, and has spent almost two decades with the agency he co-founded, Free Range Studios, which uses its talents to create and spread good stories about social causes.
Then, three years ago, something happened. "One day, during a brainstorm with my team, I had a sort of out of body experience, observing myself as if from across the room", he wrote. "And I could see the company's problem clearly. It was me. The way I was exercising my creative abilities was depressing the creativity of everyone around me. I had become an idea bully."
This realization put Sachs on a path to help rewrite not just his own leadership style, but also help other creatives, who, "as they rise through the ranks and gain positions of leadership, can fall into numerous traps that cause them to drain the energy and abilities of those they manage." He dug into the research, the science, and the result is Unsafe Thinking, a book that reveals how all of us can adopt a bolder mindset that can lead to innovation and change.
Sachs graduated in 1997 from Wesleyan University, uncertain about his future. He had a bachelor's degree in American Studies and had been editor-in-chief of the university's newspaper, but was terrified of getting a job where he wouldn't be noticed or appreciated. Instead of finding refuge in his parents' basement hugging a six-pack, he went and did something else: after two years of mostly freelance gigs in design and layout, he reconnected with his childhood friend and together they started Free Range Studios. They established their work ethic early on, choosing to work with people and brands they believed in: Amnesty International, Earthjustice, Greenpeace International, SEIU, the ACLU and the Harvard Civil Rights Project.
Sachs received acclaim for several of the videos he created for campaigns the company worked on, such as The Meatrix (2003) – a spoof on the movie The Matrix revealing uncomfortable truths about factory meat farming –, and The Story of Stuff – a 20 minute animated documentary about the lifecycle of material goods that reached over 10 million viewers.
His first book, Winning the Story Wars – Why Those Who Tell – and Live – the Best Stories will Rule the Future, is a call to arms to build iconic brands, and causes in service of a better future. On his first visit to Romania in 2014 he spoke about how brands can use storytelling to make a difference, be more genuine, and reach customers.
Five picks to know Jonah Sachs better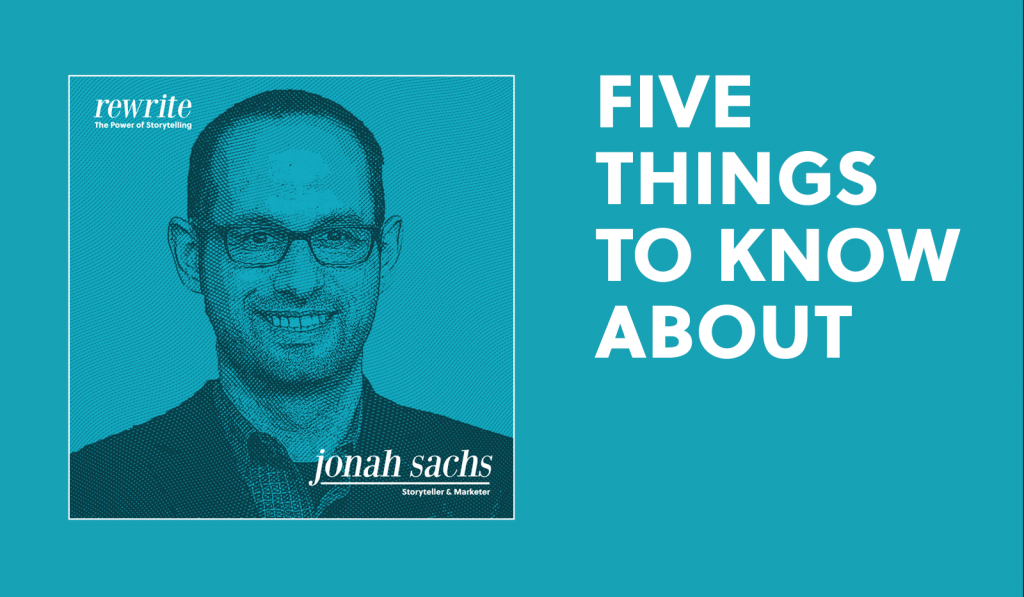 Jonah Sachs is speaking at the 8th edition of The Power of Storytelling. Register here to meet him and the other amazing speakers who will tackle this year's theme: Rewrite.