Anna Rosling Rönnlund is the definition of a social innovator. With a degree in Photography and one in Sociology, Anna fights ignorance through ground-breaking data visualization tools and a new way of thinking about the world.
In 2005, along with her husband Ola and her superstar statistician father-in-law, the late Hans Rosling, Anna co-founded Gapminder – a Stockholm-based foundation whose mission statement is to fight devastating ignorance with a fact-based worldview anyone can understand. She is now Vice President and Head of Design & User Experience at Gapminder, and sits on the foundation's board.
It all started 18 years ago, when they all sat for dinner, and Hans, a global health professor at the time, showed his son and daughter-in-law a colourful bubble chart on world development he had devised. Using UN data and national statistics, he brought together information on income, population and health to show how the world had evolved from the 1960s to the early 2000s, by country. Anna was so excited about it, she hung it on a wall in her house and it attracted a lot of admiration from friends. As a result, Anna and Ola decided to work on it further and animate it, so that people could find it online and customize it according to their searches. Hans then started to use the animated graph that they named Trendalyzer in his university lectures and it became an instant hit. He delivered a TED Talk about it in 2006 that became one of the most popular talks in history. Trendalyzer was acquired by Google the next year, and Anna and Ola spent another three years as user experience designers with the company, developing the tool further. However, their mission was for everyone around the world to be able to access and understand the data, so in 2011 they both returned to Gapminder and dedicated themselves to developing free teaching materials.
Two obstacles appeared in Anna's path and made her realize what she needed to do to truly fulfil her mission. First, the data on countries' development was so fragmented and sometimes hard to access that it hardly helped in creating a coherent view of the world. Second, in order to prioritize what content to include in the teaching material, Anna, Hans and Ola started measuring public knowledge (or rather the lack of knowledge) in 14 countries and realized simply spreading facts was not enough. Despite all the data in the world, people are shockingly ignorant. And this ignorance isn't limited to those with little or no access to education, it includes UN officials, academics, intellectuals and journalists. Over and over again, they found that people thought the world was much worse than it actually was. This was due to education systems around the world that use antiquated data, and to an incorrect dramatic worldview that we, as humans, are prone to.
In order to help with this, the three researchers started working on a book called Factfulness, that outlines 10 dramatic instincts that make people misinterpret the world and offers concrete rules of thumb on how to control those instincts. The point was not just to dismantle misconceptions, but also to reduce the pessimism, stress and anxiety that come with them. Unfortunately, Hans passed away when they were writing the book, but Anna and Ola kept working and published Factfulness in April 2018. It attracted admiration from Bill Gates, who said it was one of the most important books he'd ever read. "It explains more clearly than almost anything else I've read why it's so difficult for people to perceive progress," Gates said in an interview with TIME magazine, and added that the framework Hans used was a revelation. He had divided the world into four income levels and showed that similarities and differences in people's lives are more dependent on these rather than on culture or region, as we might be tempted to believe. Former US president Barrack Obama also included Factfulness in his summer reading list and wrote it was "a hopeful book about the potential for human progress when we work off facts rather than our inherent biases".
Recently, Anna launched a new project called Dollar Street, a tool that presents the world as a street, where the poorest live on one end and the richest at the other. Using photos taken in family homes around the world, Anna shows actual living conditions of people all over the globe and illustrates similarities within certain income groups, whether they are from Nepal, Tanzania or the US. "The world seems so strange, and I don't think it is," Anna said in a TED Talk last year while presenting Dollar Street, and emphasized the cultural differences we think define countries are actually shrinking. At the moment, Dollar Street displays almost 30.000 photos and 10.000 video clips, which are free to use under Creative Common license. And when she's coming to Romania this October, she hopes to enrich that image database.
Five clicks to understand Anna's work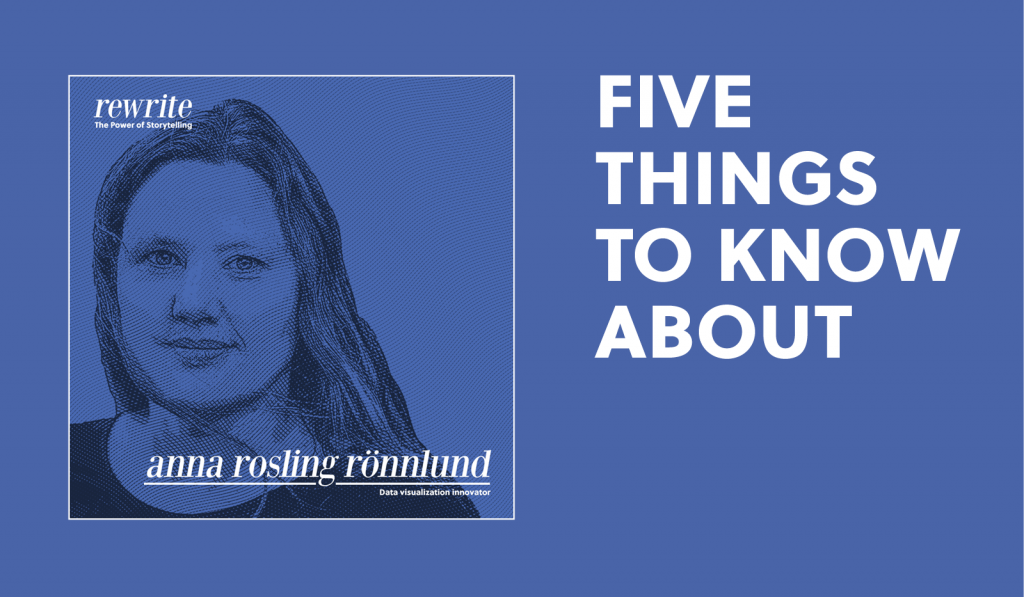 Anna Rosling Rönnlund is speaking at the 8th edition of The Power of Storytelling. Register here to meet her and the other amazing speakers who will tackle this year's theme: Rewrite.