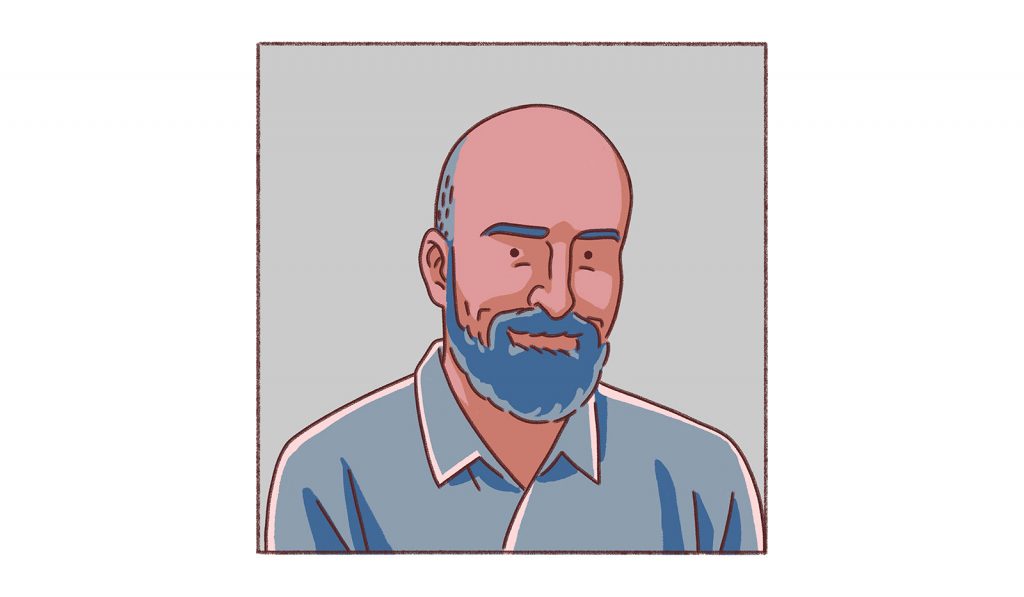 A multiple Emmy and American Cinema Editors nominated documentary editor with nearly two decades of film experience, Aaron Wickenden studied photography at the University of Arizona, in Tucson. He always felt there was something missing though, something that photography could never deliver: the story. So he slowly turned to storytelling, and then films turned to him.
First, he heard Ira Glass, the host and producer of This American Life (TAL), one of the most prestigious radio shows in the US, give a talk and he became obsessed by the focus and craft of storytelling, so he started watching documentaries. (He also did some volunteering for TAL and almost got an internship with them).
Then there were a couple of films that forever changed his life: Inquiring nuns, a black and white 40-minute film from the late '60s, with music by Philip Glass, featuring two nuns that go around Chicago asking people if they were happy. Another film was The Cruise, Bennet Miller's first documentary from 1998, on a New York city-bus tour guide who delivered a funny and evocative take on the world that also made him start looking for opportunities for humour in his films.
There was no turning back. At 23, Aaron moved to Chicago and got an internship with the production company that made Inquiring nuns. Today, he is regarded for bringing a playfully immersive aesthetic to each of his creative collaborations, including the Oscar-nominated Finding Vivian Maier, a documentary about a mysterious nanny who secretly took over 100,000 photographs that were hidden in storage lockers and, discovered decades later, is now among the 20th century's greatest photographers, and BAFTA-nominated Won't You Be My Neighbor?, a portrait of the iconic children's television host, Fred Rogers. Released in 2018, the latter is one of President Obama's favourites and the highest grossing documentary of the year. It also got shortlisted for an Academy Award in 2019.
Aaron's particular expertise lies with archival film editing, and he is committed to helping grow the documentary editing community. Unlike fiction films, where the story gets rewritten three times – when scripted, when filmed and then again in the editing room -, he is confident that, in documentary films, editing is where the story happens. "Before that, there's intention, focused energy, and gathering of materials, but not a story."
He only works on unscripted films and sees editing as "problem-solving" towards emotion. "The goal of all films I love is to use these collected relics to transport the audience towards feelings of immediacy and intimacy with the subject," Aaron told POV's documentary blog. "We want to evoke for the viewer the same feeling you have when you're in the midst of a deep discussion with your best friend."
In late 2014, he released his own award-winning film, Almost There, an epic coming-of-(old)-age story about what it means to become elderly in America. In 2016, he was honoured as one of the top five filmmakers in Chicago by New City, a well-established niche magazine dedicated to reviews, features and news about movies shown around Chicago.
He most recently completed work on the controversial comedy Hail Satan?, that premiered in competition at Sundance Film Festival this year and is currently in theatrical release in the US. The film traces the rise of The Satanic Temple, one of the most controversial religious movements in American history, and in April was featured in NYT's Critic's Pick section.
When he's not editing, he likes very simple things: cooking, taking long walks in the huge park near his home in Chicago and getting lost among tall trees, things that slow him down and pull him away from technology. He is now watching Tuca and Bertie, an animated comedy series on Netflix, and would maybe consider animation at some point in his life, if it could ever reach that vulnerability in storytelling and personal honesty that documentary films reach.
Get to know Aaron Wickenden's work:
Aaron Wickenden is speaking at the 9th edition of The Power of Storytelling. Meet him and the other amazing speakers who will tackle this year's theme: Heal.