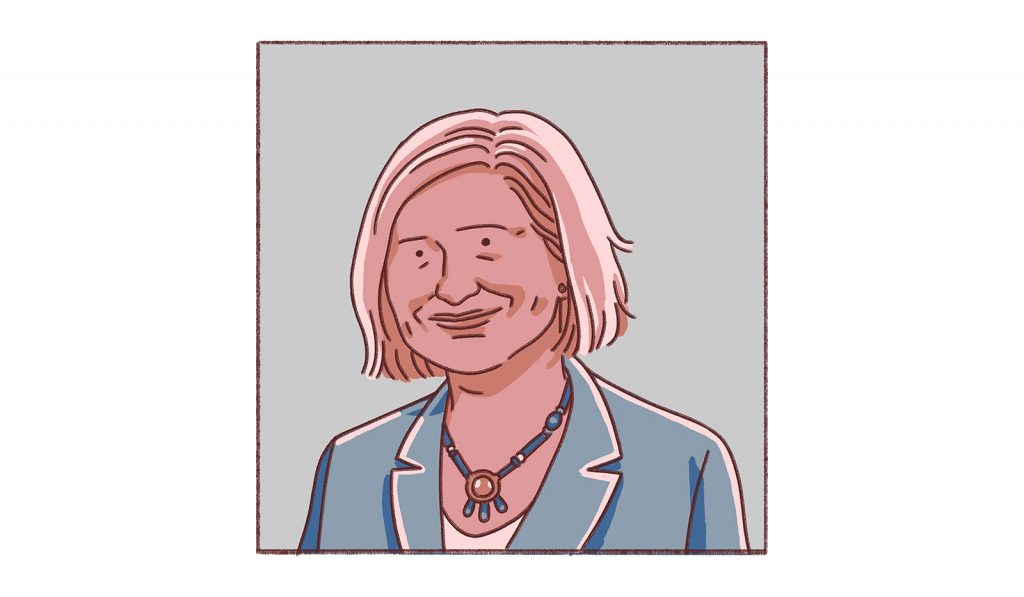 Ann Marie Lipinski's trailblazing career in journalism began in high-school. As an editor of Trenton High School's newspaper in her senior year, she started printing relevant social issues instead of sports scores and who wore what to the dance, causing a stir among parents.
She then moved on to The University of Michigan, where she also co-edited the school's newspaper, the Michigan Daily. "I was attracted to finding things out and telling people about them," she said. "And I loved the life, the newspaper milieu. I thought the newspaper had the most interesting students, funny, smart, different. Not a type. Other groups had types. The newspaper had all different types."
She joined the Chicago Tribune as an editorial intern in the summer of 1978, and was then hired as a full-time reporter. She took on different reporting and editing roles before becoming editor of the paper, in 2001. In 1987, she was part of a reporting team that investigated the corruption and conflicts of interest in the Chicago City Council, in a series titled City Council: The Spoils of Power, for which the team won the Pulitzer Prize for Local Reporting.
At a time when men held most of the leadership roles in newspapers around the country, she was appointed editor of the Chicago Tribune, in 2001, and became the paper's first women editor. "I think it was really when I was leaving the paper that I became aware that it was somewhat significant", she said of her pioneering role. "Younger reporters, women who had looked around and were trying to figure out how to balance life and work, I think they found some example in me, which they could choose to follow or not."
"And it is not coincidental that our industry—where harassers recently have been toppled at National Public Radio, CBS, Fox, NBC, The New Republic, and elsewhere—employs so few women in the most senior roles", she writes in a piece about women standing up against sexual harassment in the newsroom. "The fix is not sexual harassment training, but more people in leadership who already know better."
Under her stewardship, the Tribune became known as a leader in public service journalism, publishing stories with both investigative depth and literary detail, including a multiyear reporting effort that helped bring about a moratorium on the death penalty in Illinois. As an editor, she oversaw work that won Pulitzers in international reporting, feature writing, editorial writing, investigative reporting and explanatory journalism.
She left the paper after 30 years, and in 2008 joined the University of Chicago as a senior lecturer and vice president for civic engagement. She also served on the Pulitzer Prize board, acting as co-chair in her final year, as well as the boards of the Chicago Children's Choir and the Court Theatre.
On April 19, 2011, she was announced as the next curator of the Nieman Foundation for Journalism at Harvard, America's most prestigious journalism fellowship program, and she also became the first woman to head the Nieman Foundation since it was founded in 1938. From From that position, she oversees an international fellowship program for journalists and an innovative group of publications about journalism, including Nieman Storyboard, Nieman Lab and Nieman Reports.
She often says the future of journalism depends on innovation, but also believes "great journalists are formed by great journalism, excellence being a catalytic force for good", and this stands true no matter how much the industry might change.
"Five years ago, when Nieman marked its 75th anniversary, she writes in a 2018 piece, "the explosion of #MeToo stories had yet to be published and the internationally networked Panama Papers investigations had not been written. It is also true that "fake news" was not a weapon wielded from high office while conspiracy web sites masquerading as news found succor. Reporting moves fast as do its detractors, both with the power to persuade. Somewhere, future journalists are paying attention."
Get to know Ann Marie Lipinski's work:
Read this insightful piece on misogyny culture in journalism, how she managed sexual harassment in the newsroom and how to create workplaces that truly support women.
Watch a conversation between two Pulitzer Prize winners: Ann Marie Lipinski and Lin-Manuel Miranda, on finding your voice as a writer and the role playwriting can play in addressing history.
Ann Marie Lipinski reflects on the historic US presidential campaign of 2016 and looks ahead to what newsrooms must do next.
Ann Marie Lipinski is speaking at the 9th edition of The Power of Storytelling. Register here to meet her and the other amazing speakers who will tackle this year's theme: Heal.