Nina Berman is a documentary photographer, filmmaker, educator and author of three books: Purple Hearts – Back from Iraq, that presents portraits and interviews with wounded American veterans, Homeland, an exploration of the militarization of American life post September 11, and most recently, An autobiography of Miss Wish, a story told with a survivor of sexual violence and reported over 25 years.
"This is work that I live, not just a project that I go out and conceive of and go out and shoot," said the New York-based photographer in a New York Times interview on her most recent book, "An autobiography of Miss Wish", a collaboration with a survivor of sex trafficking and child pornography that span over 25 years.
Nina met the protagonist Kimberly Stevens (that went by the name of Cathy) while on assignment in London during the Thatcher years. She took photos of her that no publication was interested in at that time. They kept in touch and Nina became the recipient of medical and social security records, and, often times, Cathy's confidant. Even so, Nina fact checked everything and traveled to London to corroborate Cathy's recollections with her images.
The book manages to capture the raw essence of vulnerability and helplessness, without asking the character to further expose herself in front of the camera in vulnerable moments. Everything that made it into the book had Cathy's approval, as she is as much the author of the book, as Nina is.
"An autobiography of Miss Wish" not only challenges traditional storytelling methods, but also encapsulates recurring themes in Nina's career, such as: how hierarchies of power operate, how justice is fought for, and how individuals live with the effects of violence. For women who lack the stature of celebrity or access to the media, the book echoes the current conversation and includes a group often excluded.
Nina's wide-ranging work looks at American politics, militarism, post-violence trauma and resistance and has captured everything from post 9/11 New York, to Afghanistan under Taliban rule, to mega-churches in America. Her photographs and videos have been exhibited at more than 100 venues, and have been recognized with prestigious awards in art and journalism from the World Press Photo Foundation, Pictures of the Year International, the Open Society Foundation, the New York Foundation for the Arts, the Aftermath Project, the Center for Documentary Studies at Duke University and Hasselblad.
She is a member of the photography and film collective NOOR images and an associate professor at the Columbia University Graduate School of Journalism, where she directs the photography program.
Five picks to know Nina Berman better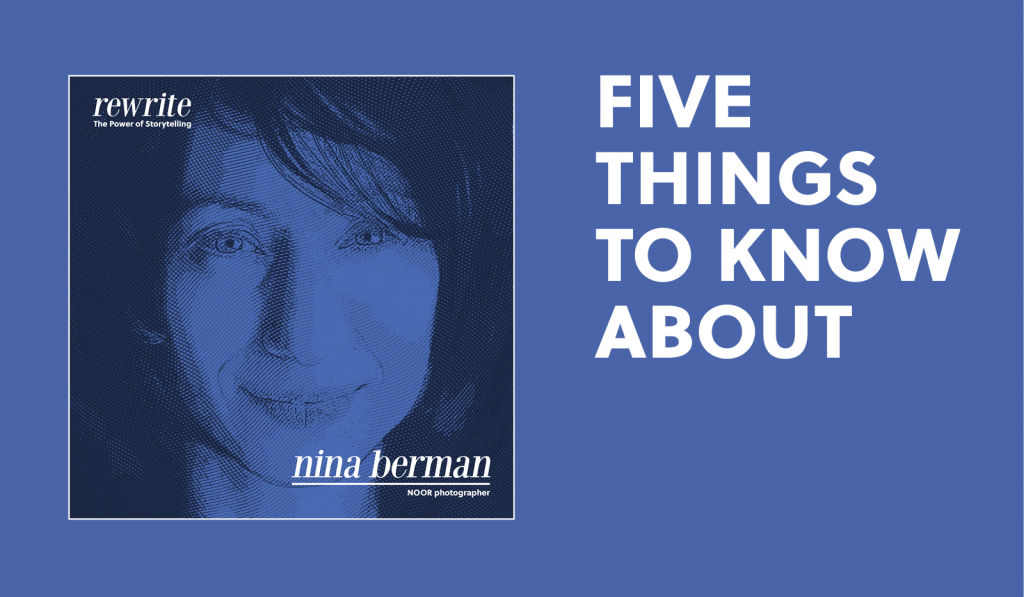 Covering a Failed Rally (August 2018) – photo work for Columbia Journalism Review, on the Unite the Right 2 rally in Washington.
An Autobiography of Miss Wish (2017) – the story of a survivor of sex trafficking and child pornography and her struggle to survive and find physical and emotional safety, to assert herself as an artist and narrator, and to craft a life while living in a state of flashbacks, trauma, and addiction.
Triumph of the Shill (2017) – a short documentary that reimagines the Leni Riefenstahl 1935 Nazi propaganda classic as an aesthetic blueprint to consider the 2017 presidential inauguration and election of Donald J. Trump.
Homeland (2008). In Homeland, Berman is an American looking at America, when all eyes were on Irak. She focuses on the growing elements of fanaticism and faith in guns and God, and witnesses the rise of the 'super' churches. She photographed military demos, recruitment centers and air fairs where you are never too young to have your own gun. (A video combining 60 photos published in Homeland here.)
Purple Hearts (2004). Berman named her book after the token honor given to soldiers for their wounds, a token that, in the eyes of many, makes them heroes. Her photographs tell the story of American soldiers gravely wounded in the Iraq war, who have returned home to face life away from the waving flags and heroic send-offs. The images are accompanied by first-person interviews with the soldiers, who discuss their lives, reasons for enlisting, and experience in Iraq.
Nina Berman is speaking at the 8th edition of The Power of Storytelling. Register here to meet her and the other amazing speakers who will tackle this year's theme: Rewrite.