Anne Hull is an American journalist who won the Pulitzer Prize in 2008 for reporting on the mistreatment of injured veterans and poor living conditions at Walter Reed Army Medical Center during the Iraq/Afghanistan wars. Her work stirred up massive outrage amongst the Congress, the Pentagon and the White House, but also change: top three Pentagon officials lost their jobs. It was a reminder for all the people at The Washington Post that journalism can still create powerful change in society.
She was a national correspondent for The Post until 2017, and a Pulitzer finalist in 2005, 2004, 2003, 2000 and 1995. Her career began at St. Petersburg Times in Florida, where she answered phones on the city desk, and only later became the paper's national correspondent. At The Post, she combined in-depth reporting with long-form explanatory journalism to explore the marginalized American society and explain how addicted teenagers, migrant workers and poor people struggle for the things they believe in and how divided a country can be.
She had dropped out of college after only a year and always believed she didn't have the education needed for the job. But she jumped at any given chance in the newsroom. That's how one of her first features turned out to be about fashion in New York. Hull learnt on the job — sometimes the hard way. For example, she learned to never take other people's words as factual, when she reported that Bruce Springsteen had made an appearance at an event but in fact he never showed up.
Hull has a narrative reporting approach that brings to life vibrant details and calls it "just being there". "I have learned that 60 percent of journalism is waiting around for the story and learning journalists need to see things for themselves," said Hull.
Dana Priest, her colleague on the Walter Reed investigation, said "Anne's approach is not direct. She's just willing to not know where a person is going to lead her, and for a much longer time than I generally have the patience for. And then she likes to sink into a subject and not emerge for days on end". Thus, Hull creates a rare intimacy in her work, letting people truly feel while they're reading.
She received a Nieman Fellowship at Harvard University, and a Holtzbrinck Fellowship at the American Academy in Berlin. She's taught non-fiction writing at Princeton University and she is currently working on a book.
Five picks to better know her work: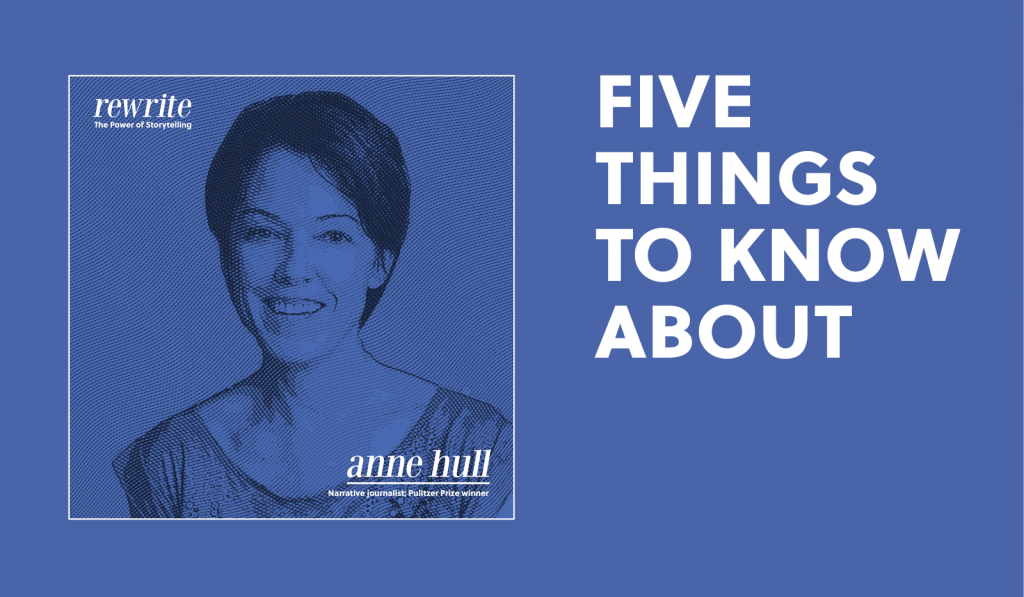 Anne Hull will be speaking at the 8th edition of The Power of Storytelling. Register here to meet her and the other amazing speakers who will tackle this year's theme: Rewrite.