With this year's theme being Rewrite, we wanted to know what are some of the issues of the world that participants would like to be different. Their answers, ranging from personal stories to global issues, from politics to poverty and from abuses of power to our relationship with animals and nature, provide a roadmap on issues that need to be tackled, written about or given more thought to.
We extracted some of their notes below.
Girls getting married against their will
The fact that we think the planet is just for the rich people
Children not going/quitting school
Why do we keep repeating the same mistakes as a species?
Parents abusing their kids
Teaching science through stories
The policy process; Odessa massacre; Berlin Olympics; This summer.
Making businesses that care for the people and the planet
Poverty, politics, education
Intimate partner violence
Last Romanian elections
Making education more accessible
My father leaving me and mom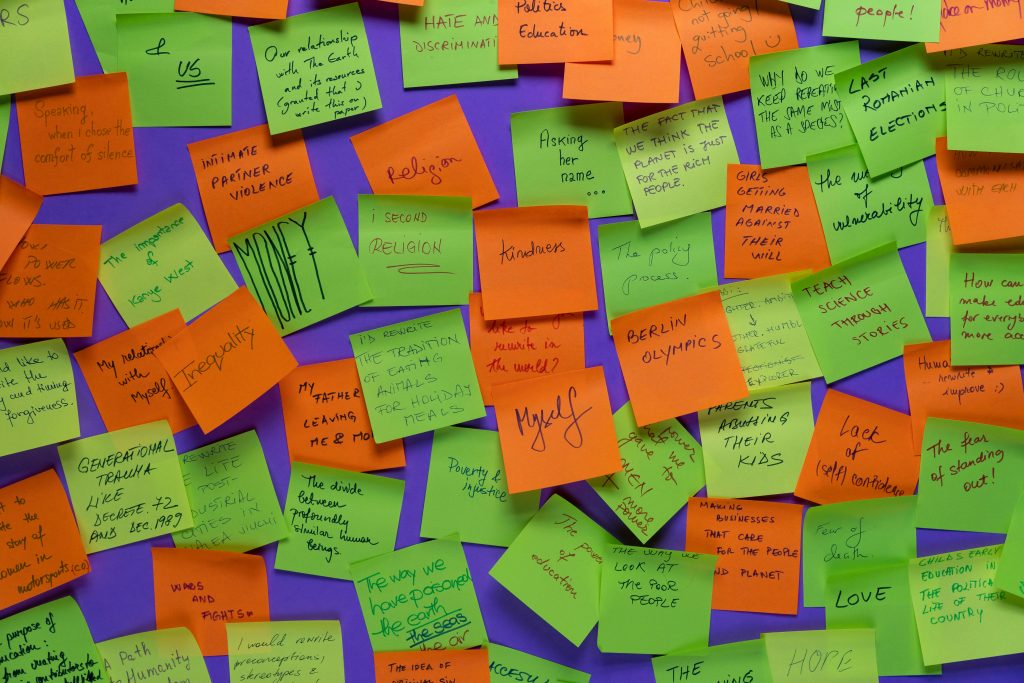 The way we look at poor people
How people communicate with each other
The role of Church in politics
Love, hope, fear of death
Child's early education in the political life their country
The meaning of life
Religion, wars, poverty, injustice, inequality
The tradition of eating animals for holiday meals
The idea of original sin. Humans are born noble
The importance we place on money
Families (and nations) not telling their stories
How power flows. Who has it. How it's used.
My relationship with myself
Generational trauma. Like Decrete 72 and December 1989
All of the world's biases
The story of women in motorsports (&co)
Our relationship with the Earth and its resources (granted that I write this on paper)
The purpose of education: from creating obeying contributors to the economy, to fulfilled human beings
Cancer and mental health; disability
The importance of Kanye West
The importance of kindness
Vulnerability, authenticity, love, hope, freedom
The power that we gave to women
The life of post-industrial cities in Valea Jiului
How feelings of racism are passed on to other generations
The divide between profoundly similar human beings
The way we have poisoned the earth, the seas, the air
LGBTQ, hate, and discrimination
Asking her name.